Generators are used to either supply direct power to machines or charge RE Batteries. Generators are a must-have to get off to a good start in a new world by suppling power to lower-tier and basic machines. The basic Generators operate on conventional fuel, which includes most wooden items, Charcoal, Coal, Coalfuel Cells, Biofuel Cells, certain plants, and Scrap. While costly in terms of fuel, basic generators are also one of the most mobile power sources, and don't suffer the drawbacks of requiring sunlight, water, lava, or proper wind as the case is with the other types of generators. When wired up to an electric machine the generator will power it and any others until it runs out of power.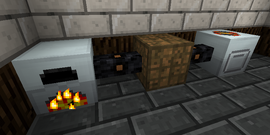 To use, place one of the compatible fuels in the lower slot. The generator will output power at a rate of 10 EU/t. You can also charge RE Batteries by placing them in the top slot. For a fuel to automatically be supplied through a transport pipe into the bottom slot, the pipe must be connected to the bottom side of the Generator.
Generators can be converted to more efficient and/or automated generators such as:
A generator can be crafted from one RE Battery, one Machine Block, and one normal stone Furnace.
Or from one RE Battery, three Refined Iron, and one Iron Furnace. This recipe calls for the same amount of iron (when the iron furnace is crafted with stone furnace + 5 iron) but requires that less of it be refined.
Raw Materials Needed
3
Refined Iron
5
Iron Ingots
8
Cobblestone
0.5
Copper

3 to complete

Copper Cable

crafting

4
Tin
2
Redstone Dust
Storage: 4000 EU
Output: A varying amount of EU (depending on fuel source, see below) at a rate of 10 EU/t.
| Fuel Type | Total EU |
| --- | --- |
| Fuel can with 6 Coalfuel Cells | 76440 |
| Fuel can with 6 Biofuel Cells | 26040 |
| Coal Coke | 8000 |
| Coal/Charcoal | 4000 |
| Scrap | 870 |
| Wood/Planks/Other Wood Items | 750 |
| Saplings and Sticks | 250 |
| Rubber Sapling | 200 |
| Reed/Cactus | 120 |
Video Tutorial
Edit
Ad blocker interference detected!
Wikia is a free-to-use site that makes money from advertising. We have a modified experience for viewers using ad blockers

Wikia is not accessible if you've made further modifications. Remove the custom ad blocker rule(s) and the page will load as expected.