Bronze armor is from Industrial Craft 2, it is the next step in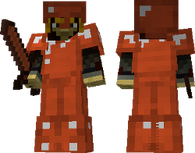 armor levels above Iron possesing 30% more durabilty.
It is made using bronze ingots taking 24 to make the full set.
Raw Materials Needed
Edit
Crafted into 24 Bronze
Real no. of raw materials
With Macerator
Edit
Without Macerator
Edit
Ad blocker interference detected!
Wikia is a free-to-use site that makes money from advertising. We have a modified experience for viewers using ad blockers

Wikia is not accessible if you've made further modifications. Remove the custom ad blocker rule(s) and the page will load as expected.